Crocker Ltd has a broad menu of solutions for any soil, anywhere –- whether solid rock, arroyo sand or non-compacted fill on your construction site.
Micropiles are shafts drilled into the subsurface at any angle and cemented in.
Helical piers are screwed into the ground at high hydraulic pressure for an elegant retrofit.
Mini-piles are a combination of the two.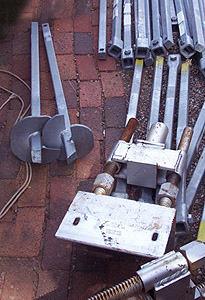 A.B. Chance Helical Piers
We use the A.B. Chance® Helical Pier Foundation System as a basis for our method of structural underpinning for buildings with insubstantial footings.
Helical piers are a reversible and low-impact foundation repair alternative, both qualities being critical in historic preservation settings, especially those with archaeological significance. Helical piers are also:

• economical.
• rapid to install.
• require no Portland cement.
• meet engineers' specifications for load-bearing requirements.
• can be installed anywhere, anytime.
Helical piers are also effective in new construction settings where the soils do not meet load-bearing specifications. There is no job too large or too small for the helical pier system.