A Site of Conscience
Edward Crocker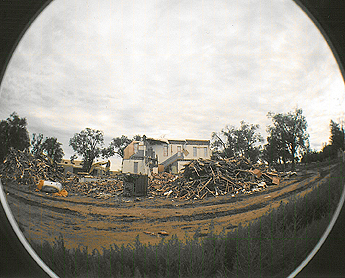 I've been keeping up on the facts and opinion surrounding the demolition of the historic brick and adobe buildings at the Santa Fe Indian School ever since I drove past on a Monday morning when some twenty of them had been brought to their knees. My first reaction was anger and sadness -- the sort of thing you feel when the life of someone you know, however remotely, has been taken without reason. The second reaction was, how ugly, how calculated; they have all been brought to their knees, their fate is unmistakable, but they await the coup-de-grâce.
I believe the decision to erase those buildings was both mistaken and cowardly. Cowardly because it began on a Saturday morning when there was no chance of recourse or appeal. Mistaken because, I read, the buildings represented something dark, something "imperial," something best forgotten. Like Auschwitz? Like Robyn Island? Like Bosque Redondo, Perm, Cape Coast, Villa Grimaldi, Rwanda, Srebreniça and Heart Mountain?
Maybe. I haven't been to most of those places, and I didn't go to the Santa Fe Indian School; but I know some folks who did. Thirty years ago Allan Houser told me over coffee that he was thankful he went there and that had he not been influenced by Dorothy Dunn he would likely not have gone from pipe-fitter to full time sculptor. That's a pretty positive endorsement.
Nevertheless, Mr. Garcia of the Eight Northern Pueblos tells us that he made the decision to destroy because the place represented oppression and was symbolic of a dominant culture. Well, so in their time were Pueblo Bonito, Teotihuacán, Tikal, Tihuacán, and Paquimé. Dead sites, you may argue. How about the reservations of the Chiricahua, Mescalero and White Mountain Apache, all notoriously aggressive in their day? Or the virtually abandoned Sky City of Ácoma, the occasionally occupied Pueblo of Santa Ana, or San Juán, the cradle of insurrection? Ácoma, Santa Ana and San Juán are not at all known for their vitriol, just for being historically taxing to the governing body. But all of these places have been preserved and conserved because of the consideration of the dreaded Dominant Culture. Might I point out that we in the United States have done a damn sight better at protecting those places and the people for whom they are important than any other country in the Americas.
But, fine. I am perfectly willing to accept that the Santa Fe Indian School had some dark chapters. All the more reason to protect it and turn it into something thoughtful and useful, don't you think? I've been to Ellis Island and read the names of the people who made landfall there, including those who were turned back. I have been to Angel Island, the immigration station in San Francisco Bay for which almost no written records exist, and seen the Chinese graffiti that in its indecipherable uncertainty brought tears to my eyes. I use Ellis and Angel as comparatives to the Indian School because people passed though there, regardless of the direction, alive. Those sites are physical manifestations of our history; encouraging, sad, recondite, but in the end positive, with a shadow. If you choose to destroy them it is because you wish history were something other than it is.
I suggest, and in all seriousness, that the piles of debris that look like a contagion on the campus of the Santa Fe Indian School be left, just as they are, so that they can be noted as a site of conscience for all sides in this unhappy episode to contemplate.