Sitting Back: Advice from the Source
Ed Crocker
In 1997 the National Trust for Historic Preservation held its annual conference in Santa Fe. Being at the time deeply involved in the conservation of both the adobe churches of New Mexico as well as clan houses and kivas in the Pueblos, I was asked to put together a panel to present what the Trust called "Lessons Learned."
More recently I was asked to consult on the architectural conservation of one of the Eight Northern Pueblos. In preparation, I read and re-read the transcript of the Trust presentation. Among the panelists in 1997 were Joe Dishta, then head councilman at Zuni Pueblo; Sam Baca, program director for Cornerstones Community Partnerships; and Rina Swentzell of Santa Clara Pueblo.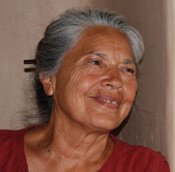 Now, in my view, it is ridiculous that I be asked to "consult" on Puebloan architecture. During six years' work at Zuni, I observed their methods, offered a few logistical solutions to problems, and helped organize some training; mostly I sat back and watched as local knowledge re-rooted and true vernacular architecture continued to re-invent itself. If sitting back is a credential, I have it in spades. Assuming that being a couch potato is qualification enough, along with my notes and transcriptions of meetings with remarkable people, I will draw on Rina's brilliant presentation in 1997 to offer my advice in a new setting.
The following are Rina's words. I have cut and pasted her commentary from '97 to address one specific question: "What are the standards by which we plan and subsequently judge the restoration of our homes?"
As a pueblo person born and raised in Santa Clara, I have watched my community rethink itself, reshape itself physically as its cultural knowledge transforms.

The community once focused on the connections between all parts of this world rather than on what distinguishes and separates [us]. People [were] named after characteristics of the mountains, the clouds, weather conditions, plants... I carry no abstract name in Tewa such as Mary or Rina. Rather, I carry a name which reminds me of the change that is inherent in "leaf floating on lake."

If you can imagine, it reminds me that a leaf does not float very long on the lake before the wind blows and tatters it; or before a bird or beaver carries it away; or before it rots in the tangle of other wet, organic, floating material, caught in the rushes along the lakeside. Change, even the ultimate change into death, is very close by, always.

The past does not have to be tangibly preserved because it is accepted as a constant part of my conscious acts. "Objects or things can be reminders of our past thoughts and actions," as preservationists say. But objects preserved can also prevent the image of the leaf floating on the lake. All possible things that could help the leaf rot or be swallowed are suppressed. "The leaf must forever float on the water in exactly the same way that it always has so we can see it whenever we choose." In strict preservationist terms, the object, the structure, the culture, the cultural knowledge must remain frozen in time so that we can experience that moment of frozen past whenever we choose. Pueblos would say, "Of course, the past is always with us. We are each at once a past, present, and future." But we cannot be part of time-of-life if we are frozen in one moment as are preserved objects. Objects and structures are seen as being alive.

What does this mean for preservationists? I can't answer for other people's theoretical construct, but I can feel what my great-grandmother would have said. She would have said, "You can respect them in the most ultimate way, which is to allow them to go back into non-beingness." But you can ask, how is this wisdom transferred, how do these ideas get carried on? My great-grandmother would reply that it would be by doing and creating.

The village, the thoughts, the ways of doing things are transforming; but she would say, "That's okay, it is a part of the understanding of the sun and the earth and the mountains and it will return in its own time, in its own manner, and in its own form relative for that particular time.