Face to face with Osama
Edward Crocker
My last substantial venture into the philanthropic realm (though it was unintentional) was not too many years ago in Nigeria. I had partnered with an unlikely character who, like me, thought that earthen architecture was the way to go, particularly in mass affordable housing schemes in the developing world. I use the past tense not because I have changed my mind, but because Najib Brimah recently moved on.
Najib was an architect from Lagos who found me through the United States Department of State and thought that we might have a few things in common. He was correct about the "few," but we did the best we could. (Among the many things on which we differed was the theory of relativity. On his first trip to Santa Fe, by bus from the east coast, he brought a publisher-ready copy of his refutation of Einstein and asked if we knew anyone who might be interested. On his second trip he asked that my wife, Ann, iron his kaftan. I knew better than to even bring it up so for that evening I became his domestic. He frowned on the result while advising that insolence was not acceptable in a woman. I've been called many things, but . . . .)
As I say, we tried. Mr. Brimah had negotiated a contract with Jigawa state in the north, near the border with Niger, to build mass housing in its capital, Dutse. I agreed to broker the purchase and shipment of ten compressed earth block machines. A compressed earth block, or CEB, results from soil being dumped into a hopper, subjected to very high pressure from hydraulic cylinders, and being extruded ready to place in the wall (see here and remember, this is advertising).
The process of export-import to Nigeria was excruciating and the results grim. Four months after the ten machines were shipped, six of them found their way to Dutse and those were so damaged and cannibalized that we could cobble only two of them into working order. That was good enough for a start, but by then I had begun to sour on the project. I learned on arrival that Najib, as the first component of his contract, was obliged to build a "guest residence" for the governor of the state.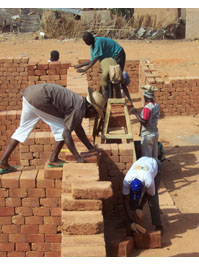 There were considerable logistical issues to be overcome including getting one of the machines to the building site through the sand. Since we were working for the governor we could commandeer many valuable assets including unlimited labor and very rare lumber to use for tracks. We were thus, inelegantly, able to get staged. The next issue was finding something other than Sahelian sand to compress.
On the drive into Dutse I had noted a number of barrow pits that looked promising, as indeed they proved to be. The clays underlying the drifting sand in that area are remarkable in their uniformity, availability and, importantly, a consistent moisture content straight out of the ground that makes them perfect for making compressed earthen blocks. The finding of the material was one thing; getting it to the site was another.
Dutse state had an impressive fleet of dump trucks none of which worked so Najib hired a local firm to transport the material. The firm consisted of a father, two late-teen sons who drove, and two dump trucks that actually turned out to be quite reliable. That was good, though I would gladly have traded substantial mechanical issues for the hubris of the willful sons. They were a cut above everyone else on site because they were "chauffeurs."
By their standards we were asking them to deliver the material to a minimally difficult site because they only had to cross about three hundred yards of dunes. The first few loads came in well and we established a roadway using some of the clay to stabilize the surface. But then, for reasons unknown to me, first one son and then the other began to dump their loads a hundred feet or more away from the CEB machine –- just randomly. This resulted in the guys loading the hopper having to carry the material in baskets on their heads the rest of the way.
I intervened by coming out to meet the trucks as they arrived and waving them up the roadway. They ignored me and dumped farther and farther away. I asked Najib what was up; he just shrugged and screamed at the guys with the baskets to work faster. That primed me, and what followed was one of my finer moments though not high in standards of international diplomacy; I directed a blistering hissy-fit at the elder of the two drivers.
He squinted at me, said not a word and drove off. He was gone longer than usual and when I saw the truck approaching with the next load, I stood in the roadway and waved him up ferociously.
I remained in Dutse for another week, fulfilling my obligation to Najib and doing my best to keep the CEB machine running and the construction managed. I did, however assume a more mild-mannered demeanor. As that truck roared up the tracks in the sand, I stepped aside just as the little snot brought it to a screaming halt; on the hood of the truck was a freshly applied decal of Osama bin Laden.
Point taken.