Reflections on a Golden Time
Edward Crocker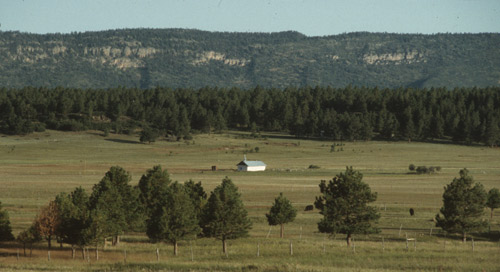 Well, Prickly Pears, since Oakley is writing the definitive and authorized history of Cornerstones in this edition of Home, it falls to me only to fill in one or two of the lesser details that she simply didn't have room to relate. Naturally, it is only in the furtherance of Human Interest that I render these memories though some may blanche or even blush at these revelations. But after all, Cholla Blossoms, what is C'stones but a human-interest story with all the embarrassments, angst and good times pertinent thereto?
First I must relate an indiscretion that Sam Baca, our first and Only community liaison, and I engaged in during Holy Week in the early 1990s. We had been invited to attend tinieblas, the Holy Thursday night ritual, at the morada in Los Hueros. It was a spectacular experience during which I learned that Sam had forgotten the words to the Our Father in Spanish. Shame! –- and he's 14th generation around here a former seminarian to boot. However, that is a bit part in the story.
On the way home at about nine, we hit an elk. It was a no-fault accident (well, the elk actually hit us so if one is allowed to anthropomorphize, it was his fault). The poor animal was mortally wounded but not dead and I ran to it thinking that I would dispatch it with my trusty Swiss army knife with its two-inch blade. I was quickly disabused of my foolishness by lethally flailing hooves. Luckily a local came by and with his rifle performed the coup de grâce with a gleam in his eye that foresaw a full freezer.
Sam's itty-bitty Chevy was a wreck with the whole driver's side mashed in and the windshield shattered, as they do, into gazillions of quarter-inch pieces that nevertheless remained in place. This was in pre-cell phone days and except for the local guy sharpening his hunting knife we were alone. So, what the Hell? We drove.
It was slow going and by the time we got to Las Vegas around midnight we were eye-dazzled from the windshield and in need of something to focus our attention. That something was two Tanqueray martinis each, after which Sam's nerves were soothed, his eyesight improved, and his driving skills honed. I do have to qualify this indiscretion by saying that the fastest we could travel in the vehicle's impaired state was 35 or so miles per hour, so the world was quite safe from us.
I think of the incident as instant karma for his having forgotten how to pray.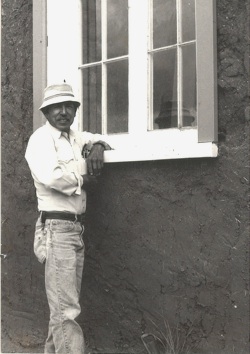 The next story is more of a heart-warmer. One of the more unusual and, I have to add, visually stunning adobe churches in New Mexico is the neo-Gothic San Rafael mission in La Cueva, just south of Mora. I worked on that building for years with its mayordomo, José Gurulé –- the kindest, most gentle and saintly man I have ever known. One day as work progressed, José approached me and expressed his sadness that the newly restored bell tower was magnificent, but empty. It had had a bell, but it was gone.
About three months before we were to celebrate the re-dedication mass I got a call from a local (Santa Fe, not Mora) who, although he has never said he wanted to remain anonymous, I will not identify except to call him Harry O.
Harry O. had read about the restoration of the La Cueva church in, I believe, The New Mexican, and picked up the phone. I don't believe the prompt was a twinge of conscience as much as it was simply the right thing to do at that moment. You see, in the late 70s he was cruising around the Mora Valley and saw this church in ruins; literally melting back into the earth. He explored and, being young and hale, made his way into the decrepit tower where he found a magnificent bronze bell.
He told me what a struggle it was to get it down and get it loaded in his truck. I don't wonder; it weighs over 200 pounds. The thing was in his basement, he said, and I was welcome to come get it. Naturally, I did.
A few months later I recruited a number of discreet volunteers from the area (Mora, not Santa Fe) and during the week we hoisted the bell into new moorings. I bought a new rope and left it hanging in the entry.
That Saturday, as we began the final weekend of work before the re-dedication, I made sure that I was on site before José. Then I followed him into the church where he saw the rope hanging from the original bell. He turned to me with tears in his eyes; then, with his aged, arthritic hands, tentatively rang the bell. And rang it and rang it and rang it.