How I Met Nigger George
Edward Crocker
I came to my appreciation for earthen architecture through good old dirt archeology. First, as I have documented in these pages, as a pot-hunter along the Santa Fe River; then getting my bona-fides with legitimate institutions of (sometimes) higher learning; and finally through meetings with remarkable people whose influence was often recondite.
The best dirt archeologist I ever knew was Selvin Banner, a native of British Honduras who I met in 1963 in Tikal, Guatemala. The only defunct archeologist who I really wish I had known, though he was long dead by the time I was born, was George McJunkin, the freedman who discovered Folsom Man in northeastern New Mexico in 1908. What the two men had in common was an uncanny sense for the unseen, a special skill for making it appear, and lives that shone in unlikely ways. Neither man had any formal education.
I had never heard of the cowboy "Nigger George," until Selvin came to New Mexico. Selvin, who spoke the King's English and whose courtesy was worthy of the Court, had requested that I sponsor a work permit for him to enter the United States. At seventeen I couldn't do that and my parents knowing nothing about the man aside from my enthusiasm, rightly declined. But Selvin found a way to get here and by the spring of 1969 I had convinced the School of American Research to take him on for a project on Unkar Delta at the bottom of the Grand Canyon.
In Tikal I had watched Selvin, who was about forty at the time, follow traces of ancient walls and floors with a skill that was guided by the most acute intuition that I had, or have, ever experienced. At the Grand Canyon I missed (as did everyone else) the discovery and excavation of a burial until it was completely exposed, in perfect articulation, along with the pots and beads that accompanied the skeleton. That particular excavation had required amazing dexterity and skill to reveal and was accomplished in complete silence. When Selvin stood up and waved to come look, the discovery was photo-ready. His work was always completely understated, and it was in that grain that Selvin "introduced" me to George McJunkin.
One evening as we lay on our cots in a tent on Unkar, listening to the boulders in the rapids of the Colorado River grind themselves into sand, Selvin said, "There are no black men here." I didn't answer because I couldn't guess, given that we were on the fried delta of a dry arroyo that hadn't seen even a hiker in a century, who exactly he was referring to. After a pause he said, "Meaning Santa Fe." Right. There was one black family living in Santa Fe at the time and Selvin had not run into them. My silence was unbroken.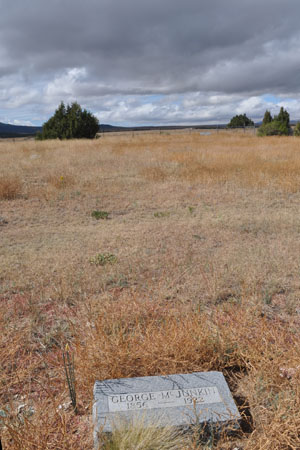 He continued, "I thought I might meet Nigger George's family."
It is a regret of mine that I did not pursue the conversation to learn who this George was or, more interestingly, how Selvin had come know of him. As I learned later (see Tony Hillerman's account, Othello of Union County), McJunkin was a man who possessed intense curiosity; a cowhand who carried a telescope to scan the universe on lonely nights and who not only discovered early man in North America, but who understood the magnitude of his discovery even as the intellects at the Smithsonian Institution dismissed it.
After the Grand Canyon I lost track of Selvin for several years. Then one day in the mid-seventies he showed up as a truck driver delivering a load of well casing for me somewhere east of Clines Corners. By then I had joined my father in the drilling business. It was a nice, but brief, reunion and then Selvin disappeared from my life. I have no clue what became of him.
George McJunkin had died many years previous, the significance of his discovery of fluted spear-points embedded in extinct Bison bones in an arroyo near Folsom not having been acknowledged. It is recorded that Nigger George died in the company of cowpoke friends who, in his waning days, read to him.
I hope Selvin came to such an honored ending.